Why envision a manufacturing career?
Everywhere you look there are manufactured products that someone has been involved in creating. The manufacturing industry is set to grow as new technologies are expanding the way we do things and the types of products that are offered in the marketplace.
Is manufacturing right for you?
Think about what interests you and what you are naturally curious or passionate about. Do you love cars? Robots? Are you passionate about sustainability? Maybe it's a subject like math or chemistry that you find you have a knack for. Or a situation you'd like to find an answer to in healthcare, such as biomedicine. Ask yourself if your interest has to do with making a product or if it is a service. If a product is involved, you may be interested in a career in the manufacturing industry. Check out our list of courses on Manufactured Products to give you some ideas.
Is manufacturing a "clean" career move?
Maybe you didn't envision a career in manufacturing before because it has always seemed like a "dirty" place to work. Did you know that over the last few decades many companies across the globe have been working to change this stigma? Facilities have been improving working conditions and processes, so much so that it is no longer a manufacturing facility stereotype. Whereas some jobs will always generate more "dirt" because of the nature of the process or material, many manufacturing facilities today are impeccably clean, and many are even considered "smart."
What is smart manufacturing?
Going beyond power-driven machines and materials-handling equipment, smart manufacturing utilizes automation to improve speed and efficiency in manufacturing processes. AI, or Artificial Intelligence, used for these smart processes and other digital technologies, may be the direction of the factory of the future, especially in the automotive and other transportation industries. If you are thinking that AI will replace the worker, think again about the process of designing, programming, building, operating, and maintaining automation. Knowing the foundation of the processes will allow for the creation of AI, so there will always be a human component. Allianz Global Corporate & Specialty says, "Despite fears that automation will replace workers, however, actually highly skilled labor demand will increase."
Review our IOT (The Internet of Things) course.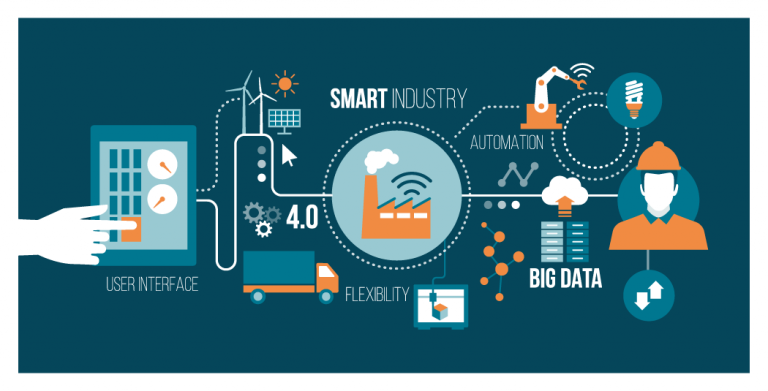 How do you start a career in manufacturing?
Check out our blog post "9 Ways to Start a Career in Manufacturing".
Then, begin exploring your options. Look at career choices listed in places like the US Bureau of Labor Statistics, where you can compare similar occupations on the basis of job duties, education, and median pay. Here is an example of a selected career choice.
When you get an idea of what interests you, check out our course library to find out more about the industry. Then, get started on your career in manufacturing!