THORS eLearning Solutions has been a provider of tools to help students and employers in the manufacturing industry bridge knowledge gaps for the past 10+ years. We can help you succeed on the next step of your journey of success, from college to industry readiness.
We asked members of our team of engineering professionals in India what their advice would be for new students.
Dipika P. earned her Electronics and Telecommunication Engineering degree from MKSSS's Cummins College of Engineering affiliated with Pune University.
Gayathri G. earned her degree in chemical engineering from Vel Tech High Tech Engineering College / Anna University.
Ronak D. earned his Mechanical Engineering degree from Guru Jambheshwar University of Science and Technology.
Praveen M. earned his metallurgical engineering degree from PSG College of Technology, Coimbatore.
Bala earned his Mechanical Engineering degree from College of Engineering, Guindy – Anna.


Why is talking the talk important?
If you can demonstrate an understanding of the job you are after, you will stand out. Realize that a bachelor's degree is very general and shouldn't be the only value you bring. Learn the terminology and processes before your interview to gain more specific knowledge on certain topics.
What advice would you give to future engineering students?
"Conceptual clarity is important. At the same time having knowledge about its application and gaining industry-specific knowledge are equally important. Continuous learning and getting knowledge about evolving technologies is the need of the hour. Applying this new knowledge gained in your current role to enhance your job performance is key to becoming successful in your professional life."
"Maintain a decent GPA to help you with the placements drive.
Build a strong foundation for the basic concepts and try to understand the subject from an application-oriented perspective.
Focus on developing your communication abilities and aptitude skills.
Utilize learning videos available on YouTube to begin to master the concepts effectively."
How can you bridge the knowledge gap?
There is a wide gap between knowledge gained at educational institutions and real-world experience. THORS eLearning Solutions can help fill in the gaps so you can become industry ready.
What did you wish you knew more about before you started your first job in engineering?
"Corporate is way too different. Only having theoretical knowledge will not help. In many situations, theoretical or bookish knowledge gained during college days may not help solve a problem. You will need to have an attitude to learn and understand organizational requirements, fit into its culture, and think out of the box to solve problems or challenges you face."
What advice would you give to future engineering students?
"I wish I knew how to turn my academic learnings into something valuable in a more efficient way."
What did you wish you knew before you went to college?
"I wish I knew before I went to college the scope of the engineering field and the growing and developing market needs."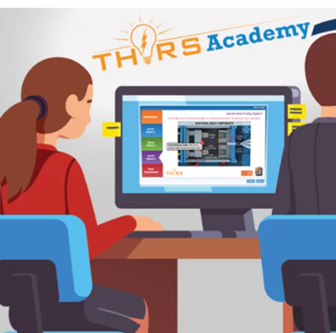 Add Credibility to Your Resume
How can you add credibility to your resume?
Adding credentials from recognizable organizations to your resume will help you stand out from your peers and add value to your bachelor's degree. Every THORS course gives you the option to print a certificate from THORS eLearning Solutions upon your successful completion of the course.
What advice would you give to future engineering students?
"Keep yourself updated with technology and always develop practical skills by doing technical training."
What did you wish you knew more about before you started your first job in engineering?
"An in-depth knowledge in the domain I started my career in would have helped me to grow fast in my career."
What did you wish you knew before you went to college?
"Only attending college and passing with good scores is not the key to success."
So how can you gain additional credentials?
THORS eLearning Solutions and The University of Akron (Ohio, USA) have partnered to offer University of Akron Certificate Programs in multiple manufacturing disciplines such as Mobility, Mechanical Power Transmission, Metal Castings, Forgings, Engineering Drawings, and Quality. The University of Akron is a known provider of world-class engineering and engineering technology degree programs and a longtime leader in preparing individuals for careers in industry. THORS eLearning Solutions is a designer of highly acclaimed online manufacturing courses with tens of thousands of learners in multiple Fortune 500 companies as well as other manufacturers and educational institutions worldwide.
The courses are developed with the cooperation of subject matter experts from world-class manufacturing companies and insights from renowned individuals across various industry domains. The courses have been designed utilizing robust instructional design practices – they are visually appealing to the modern learner and highly interactive to promote learner engagement. The THORS eLearning Solutions model combines science and industry practice to rapidly increase the Manufacturing IQ® of learners.
The University of Akron has been a longtime leader in preparing individuals for careers in manufacturing with degree programs in Automated and Advanced Manufacturing Technology, Mechanical Engineering, and Mechanical Engineering Technology. The Certificate of Completion Programs help individuals become job-ready in the manufacturing industry. They will also set an individual apart from other candidates.
"Highly specialized technical skills continue to be in demand by employers. Individuals working in manufacturing in the region or around the world will be able to enhance their skills and further their careers without even leaving home."
How does the program work?
The Certificate of Completion Programs provide a solid foundation with comprehensive coverage of a particular manufacturing discipline that can help jobseekers find employment or pursue new opportunities.
These programs also will empower individuals, across the globe, to obtain a certificate from a renowned university in the United States.
The Certificate of Completion Programs are packaged per specialty. The courses in each program cover all necessary material to successfully complete the Certificate Exam included in that program. Upon successful completion of the exam, the learner will receive an official University Issued Certificate of Completion.
Click here for more information.
Thank you to our THORS team in India for their advice.