In conversation with the Director of Contact Gearing Limited (UK), Graham Penning— the gear guru who got into the industry by chance and carved a niche for himself in the past four decades.
How did you get into the gear industry?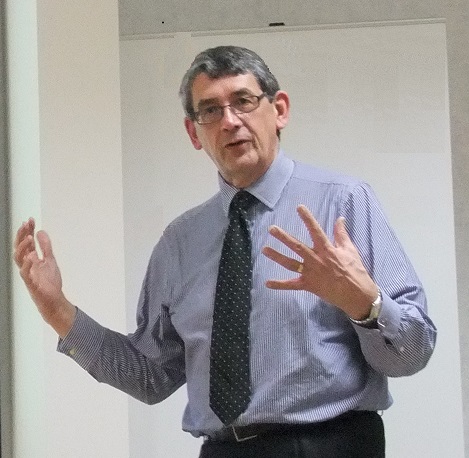 As a student I followed a "Sandwich Course" that alternated time at college with times in the industry, following industrial periods at a coal fired power station and an iron and steel works, I spent six months in the Stress analysis department at a manufacturer of large diesel engines.
After graduating, a job opportunity came up in the stress analysis section at David Brown Gear Industries that I applied for and got in. So call it serendipity, it was quite by chance that I entered the gear Industry.
Tell us about your professional background and experience.
When I joined the gear industry, I thought that in two years, I would know all there is to know about gears and then move on. However, here I am 43 years later still learning something new every week about gears. That is not untypical about the engineering industry— to be an expert not only are you always learning but you need to continually obtain updated and contemporary knowledge. This has formally been recognised by the Institute of Mechanical Engineers, who insist on demonstrable 'Continual Professional Development' to become recognised as a professional engineer in the role of a Chartered Engineer and eventually as a Fellow of the Institute.
How would your upcoming course collaboration with THORS help industry insiders?
THORS is readily accessible vehicle to support and facilitate Continual Professional development. Not only does it deliver state of the art contemporary knowledge but does so in a readily accessible manner.
Tell us about your working process for this course. How did you build this information?
The basic information is from my tacit knowledge that has been acquired during my 40+ years of experience. However, data by its own is ineffectual. So, it was critical in the creation of the course to be working with the THORS team that fully understood all aspects of virtual learning. Working together, we managed to create great content that could be readily accessible and understandable to engineers and students from any background or level.
What kind of knowledge gaps do you see in the gear industry?
Whilst it is a mature industry, there are still areas of research creating new and exciting technologies that can be adapted to great success by this mature industry. However, equally important is the retention of core skills and the tacit knowledge that resides within the intellectual mass of the industry. This situation is exacerbated by the age profile of the industry where a mass of experience is held by people retiring from or leaving the industry, taking with them knowledge that can be lost forever. It is critical that this knowledge is retained and developed and made available for all current and future engineers in the industry.
What are the immediate repercussions you have seen due to these knowledge gaps?
Too often people are making mistakes through ignorance of quite basic information and skills that have been well known within the industry for years. For example, we very rarely see failures, with massive cost and availability implications, where the cause cannot be readily determined and is the result of a basic lack of understanding.
If you had access to similar education material like THORS Academy courses when you started your career, how would it have helped you back then?
It would have quite simply accelerated my learning and experience gathering process, making me a better engineer more quickly and rapidly than by using traditional methods of learning and investigation.
What advice would you give to newcomers in the gear industry?
Do not be afraid to ask, people accept that you will not know everything and will help you gain knowledge. If you ask in the right way, you will find that skilled people are very happy to share their knowledge with you. For example, a skilled man who has been working on the same machine for many years will have vast amounts of knowledge of his process— asking politely if they can explain a little about what they are doing will quite often release vast amounts of knowledge and experience. The same goes for designers, fitters, or indeed any skilled worker. On the other hand, people will not accept you making mistakes that could have been readily avoided though a little investigation.
Want to know all about Gear Theory course that Graham Penning helped create? Click on the link below.
{{cta('49a5dbd9-748a-44f7-a0f1-0f6063def176′,'justifycenter')}}